I am in a breakfast mood, and breakfast is full of pastries! It's basically the only meal in the US where you are allowed to eat pastries and call it a day. So I am going to talk about my favorite start to the day: the homemade pancake.
I don't really like pancakes from restaurants because for me, they are usually too big and too rich. Homemade pancakes, however, are the best. Here are a few recipes and recipe tips about the best morning cake you'll ever make.
If you're going to make pancakes from a box, may I suggest Jiffy mix? Personally I find this the best base mix for making pancakes. I think the Bisquick one is too heavy (see about) and too limited. Look at all the tasty things you can also make with Jiffy mix? Also, if it's cheaper, the store brand mix is gonna do just fine. These mixes actually make really quality pancakes and leave a lot of room for interpretation and experiementaion. Even if you're more of a make-it-from-scratch kind of dude, you should have general baking mix on your pantry shelf.
If you are making pancakes from scratch, this is my favorite recipe. Good old fashioned pancakes. What I love about this recipe is that you can make it with stuff you definitely should already have in your kitchen. You can also make it with things that are in other people's kitchens, so I highly recommend memorizing this recipe and impressing people with your breakfast skills.
Add eggs. Some recipes do not not require eggs, and if you don't have eggs that's ok, but if you do, I find that pancakes always improve with eggs. You can even add more eggs than suggested. The cool thing about pancakes is that even though they are technically a cake, they don't need exact measurements like cakes do.
Another fun thing you can do with eggs is make "crepe cakes" which is a crepe and cake hybrid. Simply take your regular pancake recipe, add one to two extra eggs and about a quarter cup more of milk. This makes pancakes that are more eggy and flat but still a little fluffy and substantial. This is my favorite type of pancake and my Dad invented them, thanks Dad!
Adding fruits is a great way to enjoy pancakes! There are really three ways to add fruit; the sprinkle, the stir, and the mash. I recommend sprinkling with berries so that you can add them after the pancake has cooked a little bit. This allows the berry to hold a lot of its juices while still being warm and delicious. Bananas are a great fruit to mash into pancakes. This makes the batter more lumpy and you may have to add less milk or eggs and cook longer, but it's worth it. Also try mashing in squash! If you are going to stir in stuff, I would suggest saving that for the chocolate chips and/or M&Ms, but this is all up to chef.
Toppings are a must on pancakes.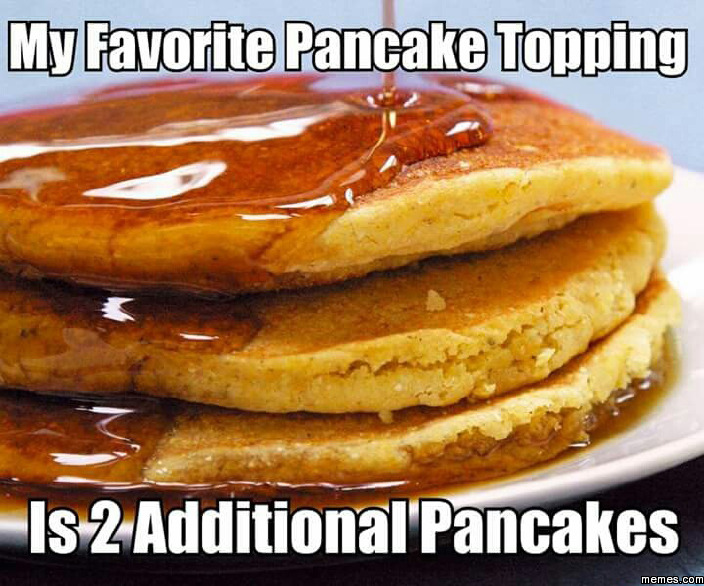 The traditional topping being butter and maple syrup. Please do not use fake maple syrup. For some reason, this corn starch concoction is actually the syrup of choice for people, but you really should branch out (pun intended) and pay the extra money and get real maple syrup from maple sap. It's worth it, it's worth everything.
Some other toppings include whipped cream, fruit, nuts, fancy jams, nutella, peanut butter, etc. If it sounds like a good idea, it probably is. Though maple syrup is delicious, don't limit yourself!
Some other tips and tricks. If you made too much batter and you are not going to make the rest of the pancakes within about a day, don't just let the batter sit in the fridge. Make all the pancakes and then freeze them. This will last you about a week or two and you can reheat them and enjoy on your own time. While you are making the pancakes, pour the leftover butter in the pan back into the mix before you make your next pancake for extra buttery goodness (only use this tip if you are cooking with real butter in the pan and not spray). That's it! Happy breakfasting!